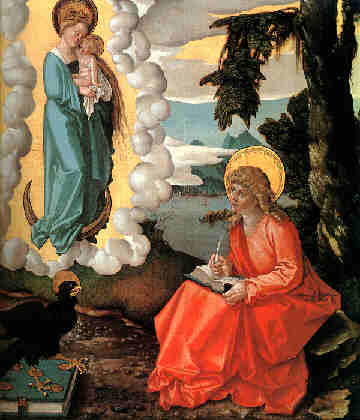 THE SECRET OF 'JOHN' AND THE ISLE OF PATMOS
"Quite possibly 'John', most beloved disciple of Jesus, who supposedly wrote the book of Revelation, was actually Mary Magdalene, the wife of Jesus, and most likely the author of the gospel of St. John
and
the book of Revelations. She was instrumental in founding the first 'church' after the death of Jesus, called the Johannine Community. Of course, the Roman church didn't take long to eliminate that group. Notice the eagle in the painting [done in 1511], this also might represent the same thing in the plate images, and in the Templar/Masonic symbols - might represent a Templar guardian of Mary and her 3 children.
Question:
why do you suppose this most beloved disciple of Jesus, thought to be John, was not slaughtered along with all the other male disciples, but instead was sent in exile to the Isle of Patmos? If indeed this most beloved disciple was a man - John, he would have been the first one killed - make no mistake about it!

Answer:
This 'John' was actually Mary Magdalene and Rome abstained from killing her because she was a woman. Perhaps because she was pregnant or had small children, it would been against Rome's policy to murder her. Moreover, if this is true, they 'killed' her in a more effective way by saying Mary Magdalene was a whore bitch and stealing what she had written and passed it off as the gospel of the disciple 'John', a man. Moreover, she and her offspring were written out of history - as these plates indicate. The painting displayed here was done in the year 1511, it is entitled, "St. John on Patmos" by Hans Baldung Green. Sure looks as if he is depicting a woman. The eagle, and sometimes a rooster, in Renaissance ART may represent the already born child of Jesus and Mary, or a guardian Templar Knight. Why is it that Catholics worship Mary more than they do Jesus? Could this Mary actually be referring to the wife of Jesus, not the mother of Jesus? Because she is the mother of Jesus' children?
Source:
http://the-red-thread.net/unveiling-9.html
---
NOTICE THE BIRD IS AN EAGLE NOT A ROOSTER IN THESE ADDITIONAL IMAGES OF PLATE 5, and in the painting. Whereas, the eagle represents the son or daughter of Jesus - OR a Templar Knight who began their watchful duty from day one.