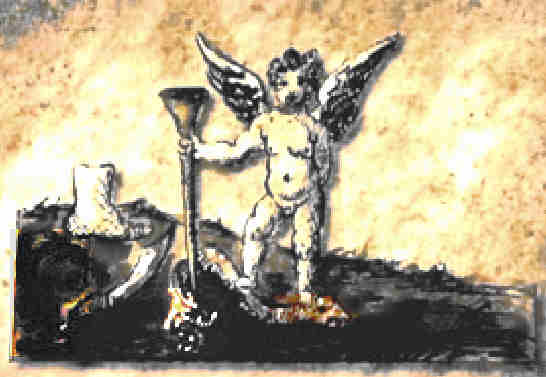 PLATE #57 HAS NO AVAILABLE IMAGE, SO I HAVE ADDED THIS IMAGE THAT HAS NO AVAILABLE PLATE NUMBER.
THE LOST BOOK OF NOSTRADAMUS
PLATE # 57

THE ORIGINAL PLATE #57 IS MISSING



In this image we see the following objects for consideration:

1) BOY ANGEL HOLDING A
2) TRUMPET
3) A BOOT
4) A LARGE KNIFE OR DAGGER
5) SNAKE
6) FLEUR DE LIS PATTERN

---
This plate is obviously telling us something that has to do with France as the snake and dagger are drawn in position to represent a fleur de lis. The boot looks rather large - big shoes to fill? The angel holds a trumpet, which he intends to sound, or has sounded. Could this be his staff?