In this image we see that someone is about to kill, or is killing, the pope - that would be Pope Clement V, for he has very recently killed the Grand Master of the Knights Templar, Jacques de Molay, plus he abolished their sacred Order. We see Jacques' severed head at the feet of the Pope, indicating blame. This image is depicting the death which occurred on April 20, 1314. Clement V was 50 yrs old at the time of death. Plate #6 reveals that Clement V was clubbed to death.

The Grand Master of the Knights Templar, Jacques de Molay, was murdered on March 18, 1314, after being tortured for 7 years. He was burned at the stake, however, they may have severed his head prior to burning his body, or, the head in this image may merely be indicating his death at the hands of the pope. It seems the members of the Templar Knights were well respected and loyal to their cause, and their disbandment and the murders thereof, by the authority of King Philip VI and Pope Clement V, resulted in the pope's own death and that of King Philip. So, we can honestly say now, that Pope Clement V was murdered. Whomever created the 'Lost Book' is telling us a story about this time in history.

---
THE LOST BOOK OF NOSTRADAMUS
PLATE # 6
[see also plate 29]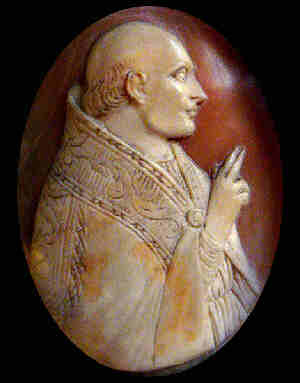 Pope Clement V (c 1264 – April 20, 1314), born Raymond Bertrand de Got (also occasionally spelled de Gouth and de Goth), was Pope from 1305 until his death. He is memorable in history for suppressing the order of the Templars, and as the Pope who moved the Roman Curia to Avignon, France. He moved the Roman Curia to Carpentras in 1309, after staying four years in Poitiers. Pope Clement V [depicted here in the cameo portrait].
Notice the hand gesture of the cameo and the coin of Clement V below. Is he showing the number 3 for some reason? Since old Clement V was lacking in righteousness and reverence, we can hardly believe the gesture represented the 'trinity'.
---
From and including:
Monday, March 18, 1314
(Julian calendar) - death of Jacques de Molay, to, but
not
including :
Saturday, April 20, 1314
(Julian calendar) - death of Pope Clement V is 33 days.
---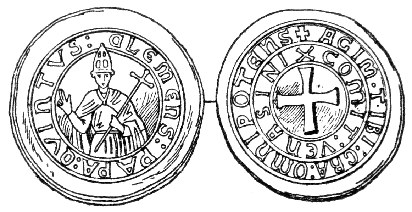 Coin of Clement V

Detail of Haides seated in his palace from a painting depicting Orpheus' journey to the Underworld. The god wields a bird-tipped staff.
Date: ca 330 - 310 BCE
Period: Late Classical / Early Hellenistic.
Make sure you click on this image of Hades - you will see he is giving the 'sign of the cross' [yeah, right] too.
Or maybe Hades is recognizing the trinity?? Hades is using the 2 finger and thumb gesture, just like all the popes, just like ancient paintings depict Jesus and other saints.
Very interesting.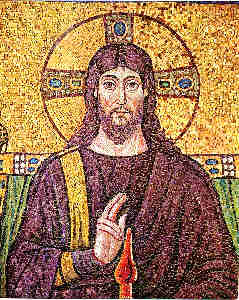 Ravenna mosaic, 6th century Jesus is portrayed gesturing a sign of the cross with his right hand facing outward, like a Christian priest giving a blessing.

---
Don't know where they get a cross resemblance out of this gesture, but I'm sure the original hand gesture meant something totally different than what they think it does today, perhaps a Babylonian carry-over. After all, the Roman church is straight out of Babylon. Oh, did I tell you, I am not a Christian and proud of it - yet I do believe in the MAN Jesus as a teacher and prophet - not a God.

I kinda got hung up on these finger gestures and have spent too much time trying to figure it out instead of moving along with the plate images. If anyone can enlighten me on the ancient meaning let me know - the gesture goes back to BCE to ancient Rome and Greece, and perhaps Babylon. email me at: power at the-red-thread.net