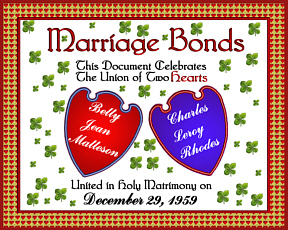 Order a special document
celebrating your wedding day.



"Marriage Bonds



This Document Celebrates the Union of Two Hearts
United in Holy Matrimony on"


Woman's maiden name and husband's name with the date of your marriage, as the sample depicts at left. A red shield and a blue shield displays the names.
sample two
sample three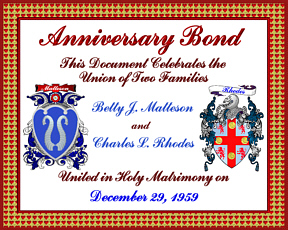 At right is a custom document
called the



"Anniversary Bond



This Document Celebrates the
Union of Two Families

United in Holy Matrimony on"

This certificate has a 'coat of arms' for wife's maiden name and one for hubby's surname. The Arms are created according to records of heraldry when available for your surname. If no reference to your surname can be found, we will create one according to your personal wishes.
Get BOTH custom images for $15.00

PayPal Orders
You are purchasing computer images that will be emailed to you.
To be saved on your computer and used as 'wallpaper' for your desktop, or print off images for framing. No copyright on purchased image. Graphics by Betty Rhodes are in .jpg format and are 2.4 mb.
We can also design a custom document to suit your special interests -