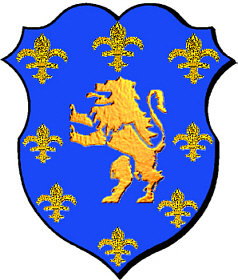 Coat of Arms: A blue shield with a gold lion rampant surrounded by fleur de lys.
Crest: A gold lion.
Motto: Fide.
Motto Translated: Trust, but in whom take care.
Origin: English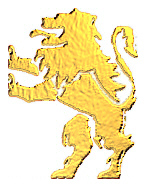 Spelling variations include: Beaumont, Beaumond, Beamond, Beamont, Beamonte, Beamonde, Bellmont, Belmont, Beomont, Beumond, Bewmont, Bewmonte, Bellemont, Beumont, Beaumount, Bewmount, Bowmont, Bowmaunt and many more.
First found in Dorset and Gloucestershire, where they had been granted lands by King William after the Norman Conquest in 1066.
Some of the first settlers of this name or some of its variants were: John Beamond who settled in Virginia in 1635; Andrew Beaumont settled in New England in 1805; Richard Beamond settled in New Jersey in 1664.
Beeman
English: variant of Beaumont.
English: occupational name for a beekeeper, from Middle English be 'bee' + man 'man'.
Americanized spelling of German Biemann, which is probably a reduced form of Bineman or Bileman, habitational names from Bien near Lingen and Biela or Bielau.
Dictionary of American Family Names, Oxford University Press, ISBN 0-19-508137-4
Beaumont

English (of Norman origin) and French: habitational name from any of the five places in Normandy or several others elsewhere in France so named. The place name comes from Old French beu, bel 'fair', 'lovely' + mont 'hill'. There are also places in England so named under Norman influence (in Cumberland, Lancashire, and Essex, the last of which changed its name in the 12th century from Fulepet 'foul pit' to Bealmont 'beautiful hill'); these may also have given rise to cases of the surname. The surname is now widespread throughout England, but most common in Yorkshire.

Dictionary of American Family Names, Oxford University Press, ISBN 0-19-508137-4
The full mantle consists of the shield displaying the arms that was given to the person bearing this surname; a banner with surname; a helmet; and family crest [if known]. See a sample of full mantle by - at right. Normally the crest is displayed atop the helmet. To order a full mantle with coat of arms and family crest: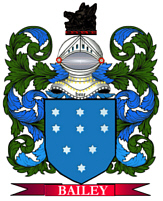 Sample Coat of Arms - Full