Spelling variations of this family name include: Bowman, Boeman, Boyman, Boman and others.

First found in Westmoreland and Northumberland where they were seated from very ancient times, some say well before the Norman Conquest and the arrival of Duke William at Hastings in 1066 A.D.

Some of the first settlers of this family name or some of its variants were: Anna Bowman who settled in Salem Mass. in 1630; Daniel Bowman arrived in Philadelphia in 1727; Joseph Bowman arrived in New England in 1772; Margaret Bowman settled in Virginia in 1663. Source: House of Names


Origin: English


Spelling variations of this family name include: Bowman, Boeman, Boyman, Boman and others.
First found in Westmoreland and Northumberland where they were seated from very ancient times, some say well before the Norman Conquest and the arrival of Duke William at Hastings in 1066 A.D.
Some of the first settlers of this family name or some of its variants were: Anna Bowman who settled in Salem Mass. in 1630; Daniel Bowman arrived in Philadelphia in 1727; Joseph Bowman arrived in New England in 1772; Margaret Bowman settled in Virginia in 1663.
The full mantle consists of the shield displaying the arms that was given to the person bearing this surname; a banner with surname; a helmet; and family crest [if known]. See a sample of full mantle by - at right. Normally the crest is displayed atop the helmet. To order a full mantle with coat of arms and family crest: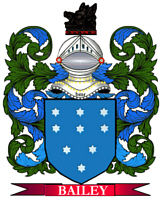 Sample Coat of Arms - Full