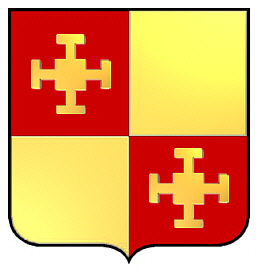 Origin: English

Coat of Arms: A shield divided quarterly red and gold, in each of the red quarters, there is a gold cross potent.

Crest: A stork holding a cross formy in its beak.

Motto: Cruce dum spero fido.

Motto Translated: Whilst I have breath I confide in the cross.
Origin: English

Spelling variations include: Cross, Crosse, Croce, Crosce, Croise, Croice and others.
First found in Lincolnshire where they held a family seat from early times.
Some of the first settlers of this name or some of its variants were: John Cross, who came from Ipswich, England, on the sailing ship the "Elizabeth" in 1634. Another John Cross settled a year later, also from Ipswich, and he became a freeman in Hampton in 1635. John Cross was constable of Wells, Massachusetts Bay Colony, in 1647. John Croos (same family) settled in Boston in 1633.
Cross surname

1. English: topographic name for someone who lived near a stone cross set up by the roadside or in a marketplace, from Old Norse kross (via Gaelic from Latin crux, genitive crucis), which in Middle English quickly and comprehensively displaced the Old English form cruc (see Crouch). In a few cases the surname may have been given originally to someone who lived by a crossroads, but this sense of the word seems to have been a comparatively late development. In other cases, the surname (and its European cognates) may have denoted someone who carried the cross in processions of the Christian Church, but in English at least the usual word for this sense was Crozier.
2. Irish: reduced form of McCrossen.
3. In North America this name has absorbed examples of cognate names from other languages, such as French Lacroix.
The full mantle consists of the shield displaying the arms that was given to the person bearing this surname; a banner with surname; a helmet; and family crest [if known]. See a sample of full mantle by - at right. Normally the crest is displayed atop the helmet. To order a full mantle with coat of arms and family crest click here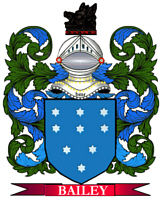 Sample Coat of Arms - Full