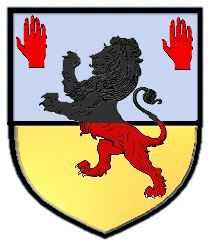 Origin: Irish

Coat of Arms: A shield divided per fesse silver and gold, with a lion rampant per fesse black at the top and red at the base, and two red right hands in chief.



Crest: Description not available

Motto: Deo fidelis et Regi.

Motto Translated: Loyal to God and king




Origin: Irish

Spelling variations of this family name include: Daly, Daley, Daylie, Dayley, Dalley, Dailey, Daily, Dailley, Dally, O'Daily, O'Daley and many more.

First found in county Cork where they held a family seat from very ancient times.

Some of the first settlers of this family name or some of its variants were: the Widow Daley who settled in Canada in 1846; James and George Daley settled in Virginia in 1646 and 1655 respectively; Charles, Daniel, Dennis, Edward, Francis, Hugh, James, John, Joseph, Kerens, Michael, Patrick, Peter, Rose, Thomas and William Daley all settled in Philadelphia in the 19th century.
The full mantle consists of the shield displaying the arms that was given to the person bearing this surname; a banner with surname; a helmet; and family crest [if known]. See a sample of full mantle by - at right. Normally the crest is displayed atop the helmet. To order a full mantle with coat of arms and family crest: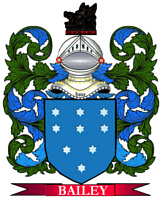 Sample Coat of Arms - Full