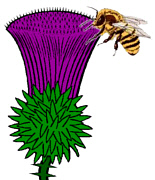 Origins: Scottish
Coat of Arms: A blue shield with a gold clasp between three silver boars' heads.
Crest: A bee on a thistle.
Motto: Dulcius ex asperis.
Motto Translated: Sweeter after difficulties.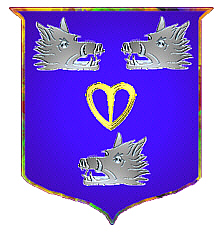 Surname Origin: Scottish, Irish
Alternate Surname Spellings: MACFERGUS, FERGESEN, FERGERSON, FURGUSUN, FERGERSEN, FERGUSSON, FARGUSON
Definition: Patronymic name meaning "son of Fergus." The given name Fergus, comes from Fearghas, derived from the Gaelic "fear" meaning man, and "gus" meaning vigor.
The full mantle consists of the shield displaying the arms that was given to the person bearing this surname; a banner with surname; a helmet; and family crest [if known]. See a sample of full mantle by - at right. Normally the crest is displayed atop the helmet. To order a full mantle with coat of arms and family crest click here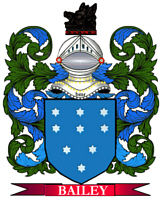 Sample Coat of Arms - Full