The surname lanning is derived from the place-name Lanyon, in Cornwall. This classes it as a habitational surname, one derived from an already existing place-name.

Spelling variations include: Lannyon, Lanyon, Lanyan, Lannyan, Lanion, Lannion, Lanine and many more.
First found in Cornwall where they settled in Lanyon. They entered England with Queen Isabella, King Edward II's bride, from Brittany where they also held the lands of Lanyon.
Some of the first settlers of this name or some of its variants were: T. Lanyan who settled in New York State in 1823; Thomas James Lanyon, who settled in Philadelphia Pa. in 1831; A.C. Lannean who arrived in Philadelphia Pa.
English Origins:

Coat of Arms:
A red shield with blue water surmounted by a gold castle, in perspective with a falcon proper rising from a green mound in the courtyard.

Crest:
A falcon rising with wings extended
The full mantle consists of the shield displaying the arms that was given to the person bearing this surname; a banner with surname; a helmet; and family crest [if known]. See a sample of full mantle by - at right. Normally the crest is displayed atop the helmet. To order a full mantle with coat of arms and family crest click here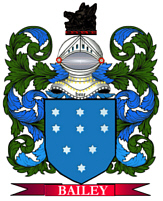 Sample Coat of Arms - Full