TAPP. A mailing list for the discussion and sharing of information regarding the Tapp surname and variations in any place and at any time. To subscribe send "subscribe" to tapp-l-request@rootsweb.com (mail mode) or tapp-d-request@rootsweb.com (digest mode).
Origin: English

Spelling variations include: Tapp, Tapps, Tabb, Tabbs and others.
First found in Dorset where they held a family seat from very ancient times.
Some of the first settlers of this name or some of its variants were: Thomas Tapp settled in Virginia in 1643; Benjamin Tapp of Portugal Cove, married at St. John's Newfoundland in 1781; Anthony and Ann Tapp settled in Maryland in 1774.
The full mantle consists of the shield displaying the arms that was given to the person bearing this surname; a banner with surname; a helmet; and family crest [if known]. See a sample of full mantle by - at right. Normally the crest is displayed atop the helmet. To order a full mantle with coat of arms and family crest click here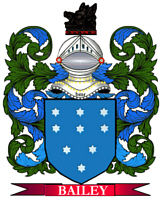 Sample Coat of Arms - Full