WILSON (British). "Son of Will."
"The Ancient History of the Distinguished Surname Wilson"

Few have not heard of the legendary prowess of the Vikings. This fierce sea-faring race acquired settlements in the 9th century at the northern tip of Scotland. It was from this group that the family name WILSON emerges.

Professional researchers found the origin of this surname WILSON by referring to such documents as the Viking Sagas, the Orkneyinga Sagas, the Exchequer Rolls of Scotland, the Inquisitor and translations of local manuscripts, parish records, baptismal, and tax records.

The first record of the name WILSON was found in Berwickshire where they had been seated from very ancient times.

In ancient times it was not uncommon for a person to be born with one spelling of his name, married with another, and yet another to appear on his headstone. Amongst the spellings recorded were:
Wilson, Willson, Wilsone, Wilson, Wilson
The third most frequently registered name in Scotland, the name is derived from "William". Because of its frequency, it is not identified with any one area but it is particularly prominent in Fife and Angus.
James Wilson from Ceres in Fife was one of those who drafted the Constitution of the USA and Alexander Wilson from Paisley became known in the 18th century as a father of American ornithology. Author John Wilson (1785-1854) is better known by his pen name Christopher North. George Washington Wilson, born in Banff in 1823, was an early photographer who published a vast collection of scenic views at the end of the 19th century. Charles T R Wilson (1869-1959) was a physicist who won the Nobel Prize for Physics in 1927 for his construction of a cloud chamber for photographing particles from outer space. The American President Woodrow Wilson was from Scottish and Irish roots.
Wilson was the 3rd most frequent surname at the General Register Office in 1995.
Wilson is a sept (sub-branch) of the clans Gunn and Innes.
from: http://www.rampantscotland.com/clans/blclanwilson.htm
Origin: Scottish

Spelling variations include: Wilson, Willson, Wilsone, Wulson, Wilsoun and others.
First found in Berwickshire, where the wilson family held a seat from ancient times.
Some of the first settlers of this name or some of its variants were: John Wilson, who settled in Virginia in 1623; Ann Wilson, who immigrated to Maryland in 1673; Richard Wilson, who arrived in the Barbados with his wife and two children and servants in 1680.
The full mantle consists of the shield displaying the arms that was given to the person bearing this surname; a banner with surname; a helmet; and family crest [if known]. See a sample of full mantle by - at right. Normally the crest is displayed atop the helmet. To order a full mantle with coat of arms and family crest click here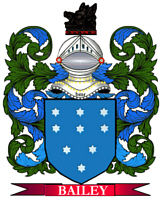 Sample Coat of Arms - Full