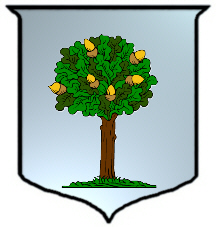 ENGLISH COAT OF ARMS

English Origins:
Coat of Arms:
An Oak Tree fructed on a silver shield

Crest: An Oak Tree

Motto:
Safe on the Waves
Clan Watson Belboys, Boas, Boece, Boeis, Boes, Boess, Boice, Boiss, Boiste, Boos, Boost, Bos, Bouse, Boust, Bowayse, Bowes, Bowis, Bows, Bowys, Boyce, Boyes, Boyess, Boyis, Boys, Boyse, Boze, Buist, Buste, DeBosco, MacQuat, MacQuattie, MacQuhat, MacQwat, MacRowatt, MacWalter, MacWater, MacWatson, MacWatt, MacWatters, MacWattie, Vatsoun, Vod, Vode, Void, Voud, Voude, Vould, Walter, Walterson, Wasson, Waters, Waterson, Watson, Watsone, Watsoun, Watt, Wattie, Wattson, Wod, Wode, Wodde, Woid, Woide,

Wood

, Woyd, Wyatt.
Name Variations: Wood, Woods, Wode, Would, Woid, Voud, Vould
Woods is Woods (the woods) The name "Woods" was at the first "DuBois" in French "of woods" among the immigrants.
Of the early immigrants to America the French have fared
the worst in respect to their names chiefly because of the difficulties experienced by Americans in pronouncing them correctly. Many have been translated into English names, as DuBois into Woods.
Other "Woods" names from other countries keep their own styles, for example ,Forest ,Longwood or Wold from England ; Forst ,Holst ,Holtzman and Wald from Germany;
Lasko ,Lesniak or Zaleski from Poland; Skoog from Sweden.